Written by Travis Lawrence
Part of the North American Wood Ape Conservancy's mission statement includes facilitating the official recognition, conservation, and protection of the habitat of the species to which we refer as the wood ape. In keeping with the spirit of preservation upon which our organization is predicated, the NAWAC is proud to announce that we have adopted a two-mile stretch of highway through the Texas Adopt-a-Highway Program.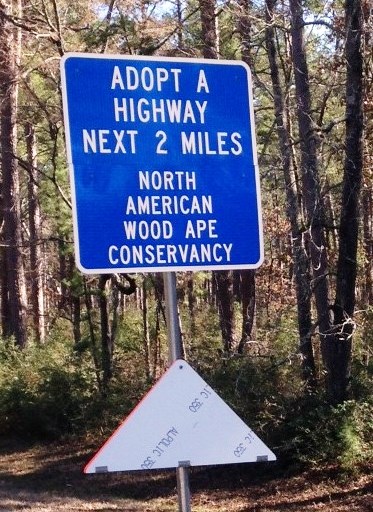 The Adopt-a-Highway Program began right here in Texas in 1985. Since then, it has grown into a nationally and internationally recognized litter-prevention effort, saving taxpayer dollars and keeping our rights of way clean. The program has more than 4,000 participating groups across the state1 and the NAWAC is now pleased to be counted among them. As part of our application into the Adopt-a-Highway Program, we have pledged to pick up litter along our two-mile stretch of highway four times per year.
The location of the stretch of highway we have volunteered to clean was not chosen by accident. Our signs can be seen when driving through the heart of the Sam Houston National Forest, the area of Texas with the highest concentration of reported wood ape sightings in the state. Specifically, we have adopted the two-mile stretch of Highway 1375 between Osborn Road and FM 149 in Montgomery County.
Our first official road cleaning has been scheduled for February 15th. Any members of the public that would like to assist the NAWAC in picking up litter are welcome to help us! Additionally, a barbecue has been planned after the cleaning and several members will be camping in the national forest afterwards. If you are a quiet supporter of the NAWAC and would like to learn more about us, not only is this an excellent opportunity for you to do so, but you will be performing a generous act of public service as well.
If you would like to join in our effort, please contact us. Make sure that you include your personal contact information so that we can communicate to you the specific details of the day. Additionally, if you would like to join us for the after-cleanup barbecue, we ask that you donate $10 to cover the cost of the food.
A special thanks to NAWAC Investigator John Dollens for spearheading this effort.
---
1 Texas Department of Transportation – https://www.txdot.gov/inside-txdot/get-involved/volunteer/adopt-a-highway/history.html