Written by Alton Higgins and Daryl Colyer
Preparations for an event on the scale of the Texas Bigfoot Conference begin many months in advance. Obviously, speakers have to be contacted, and arrangements for flights and lodging must be arranged. The conference committee also has to secure a venue, select an artist for the conference artwork, approve a tee-shirt design and place the order, arrange for sound and presentation equipment, deal with caterers and restaurants, organize setting up tables, chairs and displays, sort out media requests, and on and on. Inevitably, last minute glitches sprout up. This year the committee had to scramble to find a substitute for Peter Byrne after his unexpected cancellation.



Once arrangements have been finalized, the results are left to fate. The 2008 conference ran smoothly and featured a wide variety of compelling speakers. While gross proceeds did not allow the TBRC to realize its lofty fundraising goals, the conference once again provided excellent opportunities for meeting others and establishing foundations upon which to build ongoing relationships. That is the true benefit of attending conferences, and in that sense, the conference was a huge success.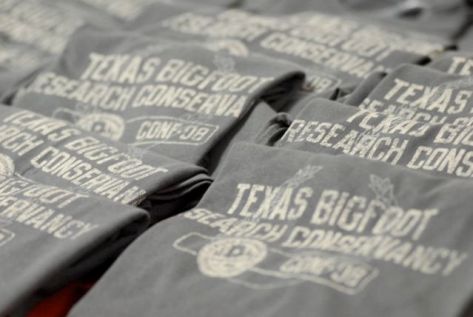 In addition to their conference day presentations, some speakers shared their knowledge with students in the Jefferson Independent School District. This year Henner Fahrenbach and Jeff Meldrum spoke to students in two high school science classes, and Alton Higgins presented an ecology lesson to seventh grade students. That lesson was recorded to show to other classes. Such activities enable the TBRC to fulfill the part of the mission statement indicating the objective of helping to "further factual education and understanding to the public regarding the [sasquatch]."



Daryl Colyer kicked off Saturday's conference with a wide-ranging review of encounters-related data derived from the TBRC's incident-report database, compiled by the TBRC's Corporate Accountant, Ken Stewart. Perhaps no other bigfoot-related organization has done as much to organize and share information with other researchers and the general public. Colyer also unveiled a new feature of the TBRC website, Report Explorer, developed by ideapark, the marketing and web design agency that developed the TBRC website. Report Explorer enables users to search the TBRC sightings database and visually display the results, using a limited set of criteria. Additional search criteria will be included in future updates.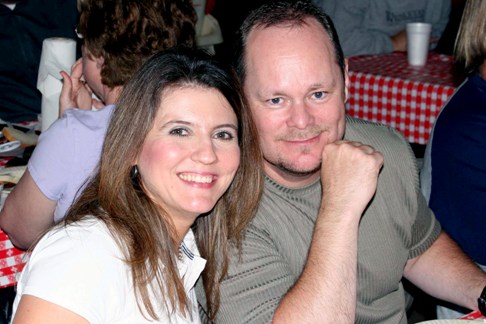 Alton Higgins wrapped up the morning session with a discussion of costumes and criteria that can be used to disclose potential hoaxes and misidentifications. Normal human body proportions were compared to costumed individuals as well as possible sasquatch hoax photographs. Some highly publicized photos were closely examined, including the Georgia hoax and the Pennsylvania Jacobs photo of a misidentified black bear.



After lunch David Paulides discussed his recent book, The Hoopa Project, featuring drawings by forensic artist Harvey Pratt. Paulides emphasized that he always insists that witnesses sign an affidavit before he will interview them regarding alleged sightings. In his opinion, the accounts he researched from the Hoopa tribe, along with the drawings prepared by Pratt based on witness descriptions, indicate possible interbreeding between humans and sasquatches.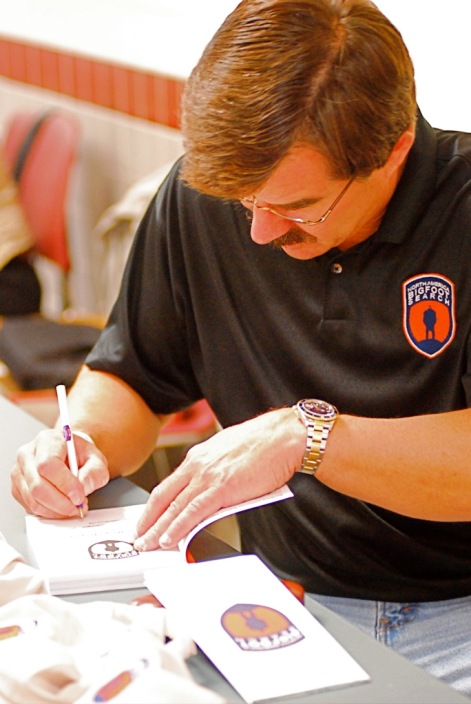 Dana Holyfield and Terral Evans discussed the so-called Honey Island Swamp Monster. Holyfield showed a trailer from her documentary and Evans described some of his sightings and experiences in the Louisiana swamps.



Evans extended an invitation to anyone interested in the subject to visit him and explore areas where the Honey Island Swamp Monster has been allegedly encountered.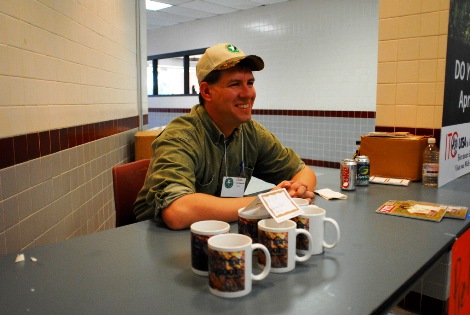 Kathy Moskowitz Strain discussed her lavishly illustrated new book, Giants, Cannibals and Monsters: Bigfoot in Native Culture. Many Native American tribes have artwork, ancient legends and songs that may have been derived from experiences with creatures known in today's popular culture as bigfoot or sasquatch. Strain, a professional anthropologist who serves as the Forest Heritage Resource and Tribal Relations Programs Manager for the Stanislaus National Forest, spent decades developing relationships with tribal leaders and researching archival literature to unearth accounts from a wide range of cultures.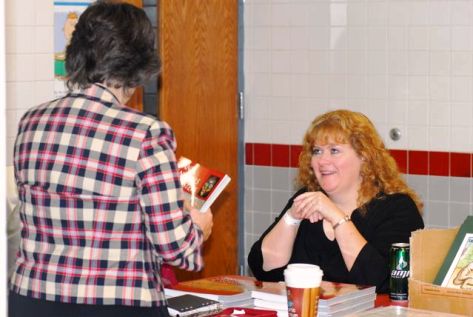 The next speaker, Robert Swain, provided one of the unexpected delights of the conference. Swain is a talented cartoonist who created Laughsquatch, a single frame cartoon series that he is attempting to syndicate. Conference attendees responded very positively to the sample cartoons and Swain's amusing commentary.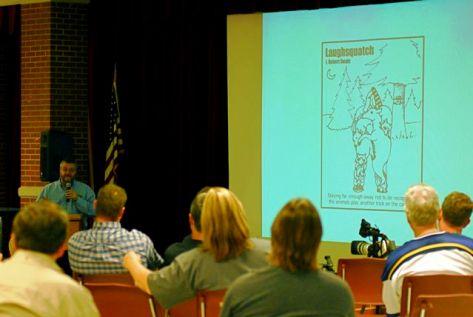 Dr. Henner Fahrenbach described sasquatch behaviors based on his evaluations of thousands of reports and, in particular, his own witness interviews and encounters investigations. He suggested that long-term habituation situations could hold the key to eventual documentation efforts.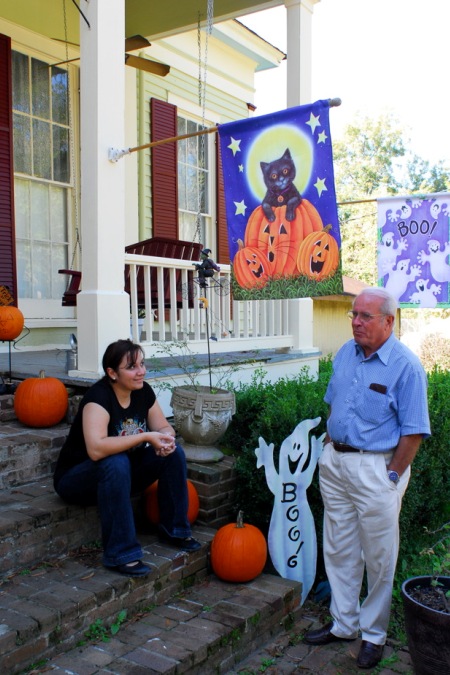 A panel Q & A rounded out the regular sessions of the conference. Conference host Brian Brown moderated the event featuring David Paulides, Daryl Colyer, Jeff Meldrum, Craig Woolheater, Dana Holyfield, Henner Fahrenbach, Kathy Moskowitz Strain, and Alton Higgins. Rick Noll videotaped the panel discussion, along with all the other conference presentations (except for the Hoopa Project discussion by David Paulides).



An evening banquet, featuring crawfish and chicken etoufee, was highlighted by an extraordinary presentation by keynote speaker Dr. Jeff Meldrum. He discussed his trip to China to meet with scientists and amateur investigators involved with researching the Yeren, the Chinese equivalent of North America's sasquatch. A side benefit of his trip was the healing of a longstanding rift between the academic community and lay investigators. Meldrum met with witnesses and spent a little time in the remote mountainous region where recent sightings have been reported. Most significantly, he was able to examine casts of footprints that bore a remarkable resemblance to sasquatch tracks, indicating a possible relationship. Efforts are underway to secure copies of the casts for inclusion in Meldrum's university collection.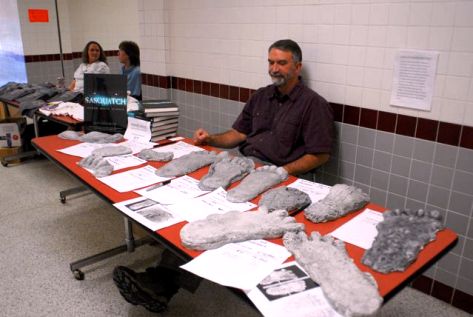 On Sunday, the day after the conference, a small group consisting of conference attendees, speakers and TBRC members, gathered at the local high school and traveled a short distance to meet on site with a young man who experienced a remarkable face-to-face encounter with a bigfoot in 1989.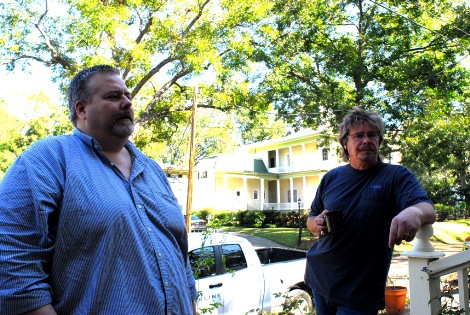 Another Conference Under the Belt (More Photos)